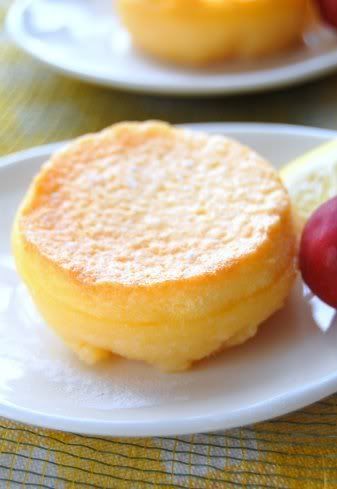 Pin It
(Photo from
Elsye's cooking blog)
Over the last few years, I've developed quite a love of all things lemon, so when I saw this recipe on Pinterest, I knew I had to try it. And boy, am I glad I did. This is fantastic. Lemony, sweet AND tart, and absolutely mouth-watering. I ate mine warm and it was perfect for a cold winter night. I can imagine it chilled in the summer, though, and I'm sure it would be equally delightful. Make it soon! You'll be glad you did. I made some adjustments, including doubling it for my family. (This is the doubled version)
2 cups sugar
1/2 cup flour
dash salt
1/2 cup lemon juice (I used the juice from the lemons I zested and then added some RealLemon juice
zest from two lemons
2 eggs, separated
2 tbsp melted butter
2 cups milk
In a medium mixing bowl, combine the sugar, flour and salt.
Whisk in lemon zest, beaten egg yolks, butter and milk.
In a separate bowl, beat egg whites until stiff but not dry. Fold into the lemon mixture.
Either pour into a 9 x 13 inch pan, or into separate custard dishes.
Place the pan or the custard dishes in a jellyroll pan and pour hot water into the pan (I used about 1/2 to 3/4 inch)
Bake at 350 degrees for about 40 minutes or until the top is set and golden brown.
This separates during baking making a cakey layer and a pudding layer. YUM!